Is that difficult to calculate how much energy can I get from solar panels ??
In principiu nu e greu, insa sunt necesare informatii cat mai exacte despre evolutia zilelor insorite pentru locatia care dorim sa o utilizam pentru productia de energie alternativa. Folosirea unor programe specializate este recomandata, insa se pot utiliza si metode mai simple.
What about solar module inclination ?.. is that angle important ?
Da este foarte important si de el depinde in mare masura energia electrica produsa de un panou. Este de altfel cunoscut ca acest unghi e diferit iarna de timpul verii, datorat in special de parcursul soarelui pe cer.
Solar irradiation
Este cantitatea de energie produsa de lumina solara la suprafata pamantului si se masoara in Wh/m2/zi.
De exemplu pentru Bucuresti avem urmatoarele date:
Locatie: 44°20'49" North, 26°13'32" East, Elevatie: 74 m a.s.l,
Bucuresti, Romania
Unghiul de inclinare optim este: 35 grade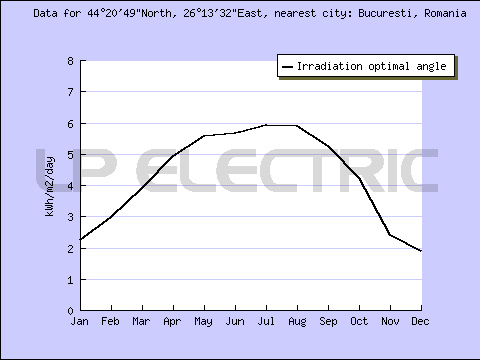 Lunile

Iradierea la inclinatie cu unghi optim: (Wh/m2/day)
Jan
Feb
Mar
Apr
May
Jun
Jul
Aug
Sep
Oct
Nov
Dec
2252
2986
3908
4938
5572
5652
5927
5876
5239
4236
2394
1874
Media anuala este de 4245 Wh/m2/zi
How much energy can I produce from 100 W solar panel?
Dupa calcularea productiei de energie , putem considera ca un panou solar de 100 W poate produce in zona Bucuresti urmatoarea cantitate de energie.
LUNA
Productia per Luna (kWh/luna)
Productia per zi (kWh/zi)
Jan
5
0.2
Feb
6
0.2
Mar
9
0.3
Apr
12
0.4
May
14
0.4
Jun
13
0.4
Jul
15
0.5
Aug
14
0.5
Sep
12
0.4
Oct
10
0.3
Nov
5
0.2
Dec
4
0.1
Anual
10
0.3
Productie totala pe an (kWh)
121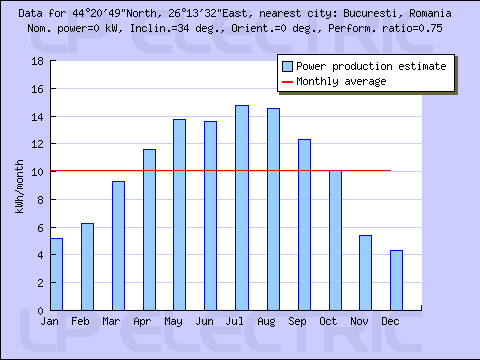 Se observa ca un singur panou solar de 100W poate produce aproximativ 121KWh pe an ceea ce este echivalent cu consumul nominal al unei case familiale, intr-o luna.
In comparatie , pentru Alba Iulia vom obtine :
LUNA
Productia per Luna (kWh/luna)
Productia per zi (kWh/zi)
Jan
5
0.2
Feb
7
0.2
Mar
10
0.3
Apr
12
0.4
May
14
0.5
Jun
14
0.5
Jul
15
0.5
Aug
15
0.5
Sep
12
0.4
Oct
10
0.3
Nov
5
0.2
Dec
4
0.1
Anual
10
0.3
Productie totala pe an (kWh)
123